<%NUMBERING1%>.<%NUMBERING2%>.<%NUMBERING3%> PRTG Manual: SSL Certificate Warning
If you use PRTG outside your internal LAN, especially when using it on the internet, you should switch the internal web server to use SSL. After doing so, your browser will show a certificate warning, as the certificate that comes with PRTG cannot be signed by a valid authority. Anyway, the connection to your PRTG web server will be secured via SSL, and you can confirm the claimed security risk. For more information on secure browser connections, please see the More section below.
Every browser shows the certificate warning in a different layout. The steps to take are similar for every browser, yet different in detail:
In Google Chrome, click on Proceed anyway every time you call the web interface.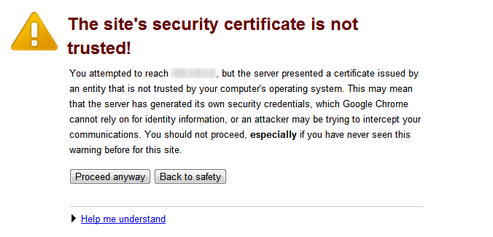 Security Warning in Google Chrome Browser
In Mozilla Firefox, click on I Understand the Risks and then on the Add Exception... button. In the appearing window, leave the check mark for Permanently store this exception and finally click on the Confirm Security Exception button.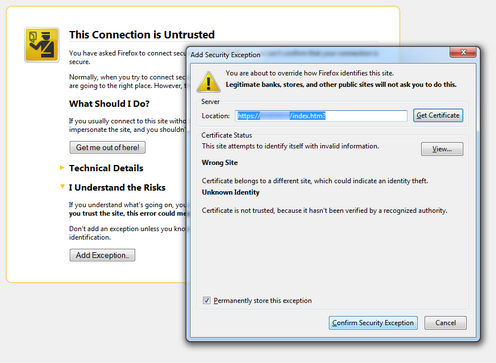 Security Warning in Mozilla Firefox
You only have to go through this procedure once for every Firefox browser and PRTG core server.
In Internet Explorer, click on Continue to this website (not recommended) every time you call the web interface.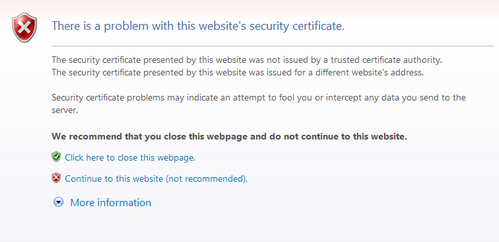 Security Warning in Internet Explorer
For other browsers, the procedures to confirm the certificate will be similar to the ones described above.
Knowledge Base: Why don't I get an SSL connection to the PRTG web interface?
Other Ajax Web Interface Sections
Keywords: