<%NUMBERING1%>.<%NUMBERING2%>.<%NUMBERING3%> PRTG Manual: Object Selector
For some functions, the object selector is shown. It enables you to browse all objects in your configuration and select an object in two steps.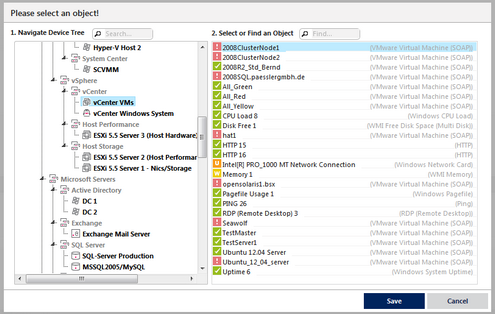 Object Selector
Step 1: Navigate Device Tree
On the left hand side, you see a device tree specific to your setup that you can browse by clicking on the corresponding nodes. Click on a device to view its sensors on the right hand side.
You can directly browse for objects in the device tree by entering a probe name, group name, or device name into the Search... field above the device tree navigation. You can also use a substring only. The resulting objects will be displayed immediately without any manual confirmation.
Step 2: Select an Object
If you have selected a device on the left hand side, you will see the sensors on this device here, on the right hand side. Also, the sensor type is shown. Hover a sensor on the right side to view its parent device and group.
You can also directly search and find sensors by entering its sensor name, group name, device name, or tag into the Find... box above the sensor list.
Select an object and click on the Save button.
Other Ajax Web Interface Sections
Keywords: