<%NUMBERING1%>.<%NUMBERING2%>.<%NUMBERING3%> PRTG Manual: Compare Sensors
This function allows you to visually compare the graphs of two or more specific objects. The selected graphs will be shown next to each other so you can have a look at all of them at the same time.
To open the page to compare graphs of several monitoring objects, from the main menu, choose Sensors | Compare Sensors. Select how many sensors you want to compare.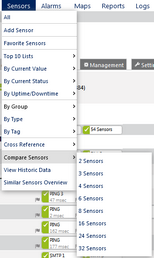 PRTG Main Menu: Compare Sensors
Once you have chosen the number of sensors that will be compared, an assistant will open where you can define your desired sensors and the time span shown in the graphs.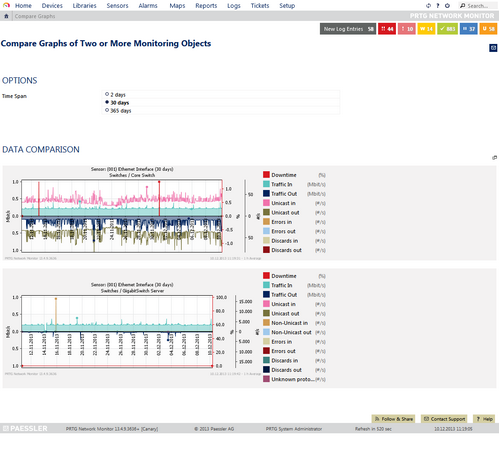 Compare Graphs of Two Sensors with 30 Days Time Span
Options

Time Span

Specify the time span for which you want to show the graphs for. Choose between:
Data Comparison
Select the objects you want to show a graph for. Click on Please click here to edit! to open the Object Selector. There will appear as many selection screens as you have defined before.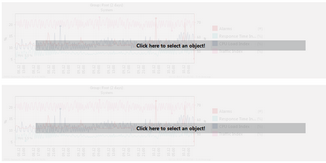 Select the Objects to be Compared
The graphs will be shown immediately after object selection.
If you want to create a sensor that combines the data of different other sensors, please see the following sensor type:
Other Ajax Web Interface Sections
Keywords: Sensor,Sensor compare